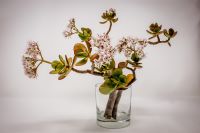 Date:
Friday 22 November 2019 (20:00 -21:30)
Saturday 23 November 2019 (09:00 -18:00)
Sunday 24 November 2019 (09:00 -17:00)

Location:
Main meditation hall
Coordinators :
Jez Taylor & Philip Stones
Kado is a contemplative art practice that studies nature - as it is.
To Kado practice:
"One touching moment in this dialogue with nature is the experience of strength and sensitivity in each piece of nature, it´s uniqueness. In not trying to value, we can discover the subtleness of beauty, whether it is obvious or not, in a piece of wood, grass, in a rose or an oxeye.
When we open up to this and offer our care and appreciation, nature´s truth and wisdom will unfold itself and communicate with our own wisdom and unfabricated human nature." M. Marx
Kado is a contemplative art practice that studies nature - as it is.
Kado originated in China, over 2000 years ago. When it was introduced and assimilated into Japanese culture, the Japanese word "Ikebana" arose, meaning "living flowers". Kado is more than flower arranging in the "Asian way" or to make pleasant flower arrangements, Kado is a path based on the truth of nature, the way things are. It is at the same time, an art form, a contemplative discipline and a guide to our lives.
Human beings are part of nature, we follow the same patterns as does all life on this planet. Kado teaches us to see the wisdom of nature clearly, which is the same in ourselves and others. We simultaneously study the human condition when working with natural materials from the earth; which enables us to develop respect for all things animate or inanimate.
This course is suitable for beginners and experienced students.
About the teacher:
Martina Marx has been practicing meditation in Shambhala since 1984. Student of Chögyam Trungpa Rinpoche and Sakyong Mipham Rinpoche. Martina met Marcia Wang Shibata, Master of Shambhala Kado Rigden School of Ikebana, in 1988 in Marburg and started to study Ikebana with her. She has been a Senior Kado Instructor since 2005, teaching Kado at Shambhala Center Marburg, Germany, in adult education programs and various international Shambhala Centers, both to beginners and to experienced Kado students.
Martina is a Council member and Co-founding member of Shambhala Kado, a new Ikebana school that is based on the Shambhala Teachings and the truth of nature.
Martina Marx is a mother of two adult daughters and lives in Trier, Germany, where she is managing a shoe store.
Payment Terms and Conditions
Please register and pay in full on registration, Please ensure you click on the relevant price option to go through to PayPal where you can also pay by credit/debit card. Cancellation up to 1 week before the programme will receive a full refund, after that there will be a £20 fee charged for cancellation up until the 21st November after which no refund is granted.
The early bird registration fee of £140 is available until 7th November after which time the fee will be £170.
A concession fee of £100 is available for those earning below £17,000 per annum and a concession fee of £70 is available for those earning below £12,000. Please contact [email protected] to request a concession.
Additional Information
Friday: Registration 7.30pm, 8:00pm meditation/talk, 9.30pm (approx.) finish.
Saturday: tea/coffee 9am, start 9.30am, finish 6.00pm.
Sunday: tea/coffee 9am, start 9.30am, finish 5:00pm. There will be a small reception at the end of the programme.
No lunch will be provided - feel free to bring your own packed lunch or explore the surrounding shops and restaurants.

For further information please email: [email protected]